Museum & Gardens Calendar of Events

Paddle Art Contest
Event Navigation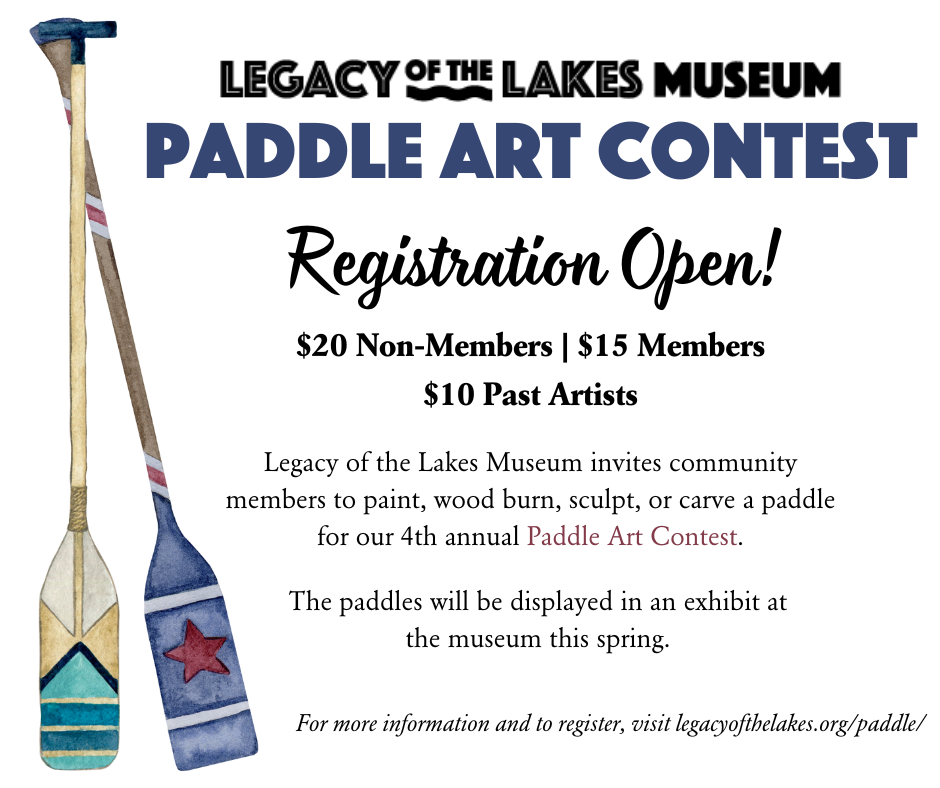 The Legacy of the Lakes Museum is pleased to announce the 4th Annual Paddle Art Contest! We're inviting community members to paint, carve, burn, or sculpt paddles into works of art. They will be displayed at the museum in a special exhibition opening Spring 2024.
Artist Information
There are two age categories, Adult (16 & Up) and Youth (15 & Under).
Registration is open now and closes on March 29, 2024. Paddles should be submitted to the museum by May 3, 2024.
Registration is $20 for non-museum members, $15 for museum members, and $10 for any of the contest's past artists.
The museum provides the paddles, which will be available for pick up at the museum starting in January 2024. Artists can choose to use their own paddle.
There will be 5 awards given out to winning artists: Juror's Choice (Adult & Youth), Artist's Choice, and People's Choice (Adult & Youth). Voting for the People's Choice Award occurs from May to August. Awards will be given out at an Artist's Reception in August.
Artists have the option of donating their paddle to the museum after the exhibition as part of a fundraising auction, with proceeds benefitting the museum.
How to Register
Register Online by clicking here
Download the form and return to the museum
In Person: 205 3rd Ave W, Alexandria, MN
By Mail: PO Box 1216, Alexandria, MN 56308